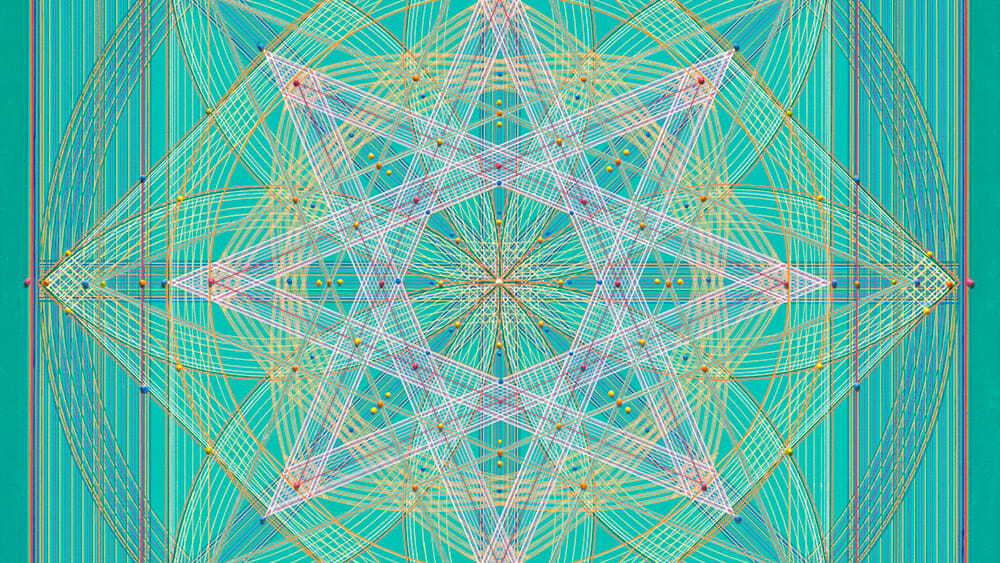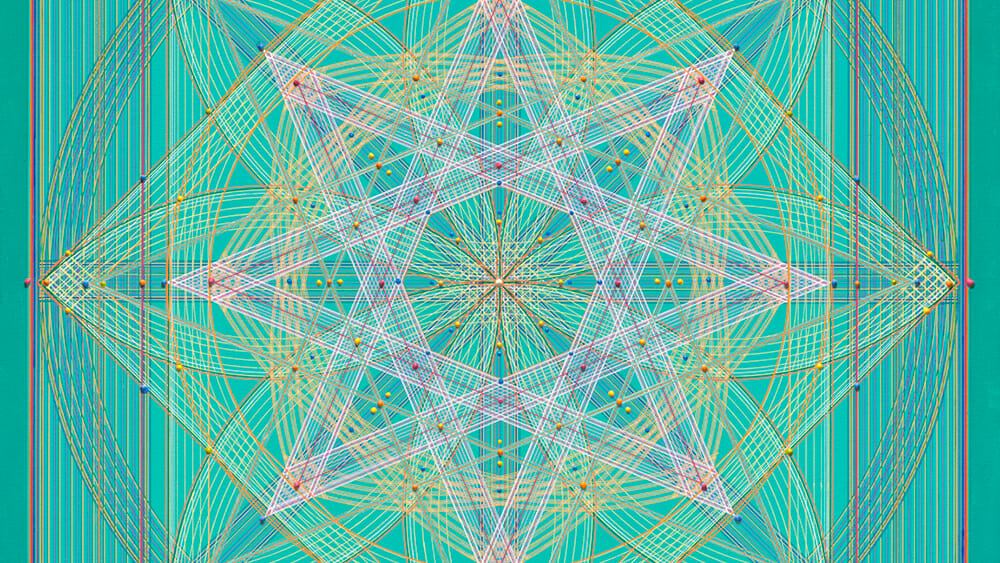 Lawrence Sheaff Captures the Structure of Consciousness – Reprinted Article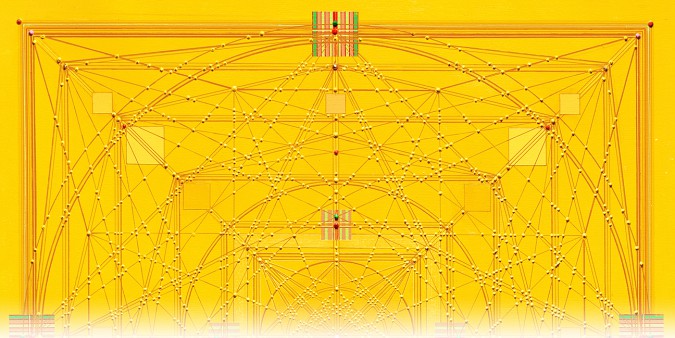 ABOUT THE PAINTINGS
The series of paintings 'Absolute Image: The Structure of Consciousness in Visual Form' began in 1995. No computer work whatsoever is involved in their creation. They are all crafted by hand in acrylic on canvas 36 x 36 inches (91.4 cm). This continuing series of paintings (numbering 45 to date) can be seen to be more than just objects of beauty for the viewer. They appear to be images that can sound an echo of that complete cosmic order, the Absolute, pure consciousness, ever-present deep within the awareness of everyone and everything. This is the unified field of natural law – the source of nature's creativity at the foundation of the universe.
– Lawrence Sheaff, October 2015
MAHARISHI UNIVERSITY OF MANAGEMENT (MUM)
Fairfield Iowa USA
Blog by Mo Ellis / October 8th, 2015
Mo Ellis is the primary contributor to the
'Creatives in the Community' blog for MUM,
which features local Fairfield artists and their work.
I chatted recently with Maharishi University of Management Research Scholar and Artist in Residence Lawrence Sheaff BA, MA, Phd. His one-man show Absolute Image: the Structure of Consciousness in Visual Form opens October 16th at Art Fifty-Two Gallery in Fairfield, Iowa. The exhibition explores the relationship of art, consciousness and Vedic Science.
Lawrence is a 2010 MUM graduate with an MA in Maharishi Vedic Science(SM). I ask him if he started this Absolute Image Series while working towards his degree at MUM.
'Actually, it was much earlier,' he says. 'After working with Maharishi (the founder of MUM) as a visual artist for eighteen years, I returned to my own work as a painter in 1990. I started painting again with just a simple desire to combine the two things I loved the most, Vedic Science and painting.'
'I didn't want to overlay or impose Vedic Science onto my work from the outside, as it were. Instead, I wanted it to authentically grow out of the process of painting itself and thus become an intimate personal experience. I began the Absolute Image Series in the UK in 1995.'
The beautifully complex geometric patterns of these paintings remind me of traditional mandalas or yantras. I ask Lawrence about this similarity, and he explains that 'there is a natural similarity between his paintings and traditional Vedic yantras, because they both utilize fundamental geometric forms. Yantras, have a distinct function in their tradition,' he says. 'My paintings have a different function. They are concerned with revealing the very foundation of our visual world.'
Lawrence describes how these images come spontaneously into his awareness, 'whole and complete. I see the image and then my job is to innocently paint what I see. I mustn't interfere,' he says. 'Lawrence Sheaff' has to stay out of it. I have to mind my own business. I just have to diligently oversee the smooth translation of that inner abstract sensation of the image in my awareness into its concrete visual form. I continuously refer to that wholeness of the image during the process of painting. All my aesthetic decisions are made directly in reference to that wholeness.'
Lawrence has filled many sketchbooks with the visual and verbal notations he makes as soon as an image appears in his mind. Reference to these notations is used to re-enliven the original wholeness of the image in his awareness when he is ready to render a particular painting.
The Absolute Image Series are associated by the artist with a particular Sutra (verse) from the Visnu Sahasranama (Thousand Names of Lord Vishnu – an aspect of the ancient Veda and Vedic Literature). I ask Lawrence how this came about.
'It started in 1997. A friend had a copy of the Vishnu Sahasranaama,' he explains. 'I picked it up and started turning pages. I realized that these names of Vishnu were the names of my paintings. So, once the painting and I come to an agreement that it is finished,' he continues, 'I sit down with the Vishnu Sahasranaama and turn the pages until a particular Sutra suddenly resonates directly with the image, and I have the name for that painting.
Lawrence acted as the Transcendental Meditation (TM) movement's head designer during the time when Maharishi Vedic Science was being developed. He helped oversee its translation into books and exhibitions to be shared worldwide. This required that Lawrence work closely with the Maharishi Mahesh Yogi, MUM's founder for about 18 years concerning all things visual. I ask him about that experience.
'Having to give visual expression to the principles of Vedic Science drew me deeply into this profound knowledge of consciousness and creativity. Whatever it was I gained from those continuous interactions with Maharishi and his Vedic Science, I now feel the need to share it, to give back whatever it was I might have been given. I'd like to think I'm giving something of that back through my Absolute Image Series and my books about these paintings.'
EXHIBITION, 2015
OPENING RECEPTION: Friday October 16, 7:00 pm.
Gallery Fifty-Two, East Briggs St., Fairfield, Iowa
Absolute Image Exhibition runs through November 28.
Lawrence will give an informal talk about his work
with questions and answers on Friday October 23, 7:00pm.
Gallery Hours: 1–4 Tues–Sat.
For information call: (641) 290-3634.
Reprinted with permission